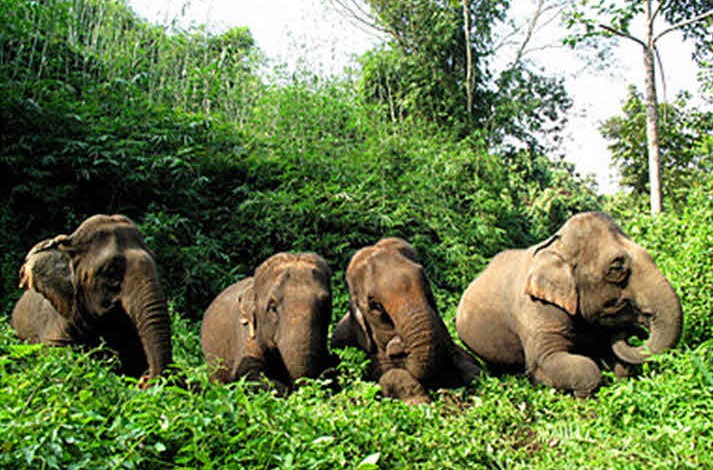 Remembering the Elephants in Thailand
At one time, many visitors were shocked to see elephants and their owners begging on the busy streets of Bangkok. Elephants are very expensive to keep and their handlers – known as mahouts – often take them from the jungle into urban centres to beg for money from tourists. Many of these elephants are mistreated, malnourished and on the brink of death.
Asian elephants are currently listed as an endangered species by the
International Union of Conservation for Nature
. They face many threats including loss of habitat and poaching for ivory. To help elephants break out of the cycle of being bought and sold by different mahouts, GTAEF tries to take in both the animal and its handler. The rescued elephants live at GTAEF on 160 acres of land.
Many visitors to Four Seasons Tented Camp Golden Triangle have been inspired to join our efforts to save the Asian elephant. Guests can sponsor an elephant through the Camp's adoption programme. These funds go to the Foundation which provides food, fodder, mahout housing and insurance as well as 24 hour veterinary care.
Some guests are even moved to start their own fundraising efforts. When Caroline and Perry Butler of
Juslyn Vineyard
and
Footcandy
shoe stores returned home from a stay at Four Seasons Tented Camp Golden Triangle, they launched a wine label and shoes in support of the cause. Perry developed a Juslyn Vineyard "Rescue" label and Caroline reached out to famous designers Manolo Blahnik and Christian Louboutin who each created a special shoe for Footcandy. All proceeds were directed to GTAEF.
GTAEF also assists or takes part in many other wider ranging elephant programs, conservation efforts and community projects. One is the Mahout Silk Project through which our own mahouts' wives set up a silk-making enterprise. The wives produce silk by growing silk worms in the mahout village and then extracting the silk from the silk worm cocoon. They then dye and weave this silk into beautiful scarves which they sell at the Trading Post at Four Seasons Tented Camp.
Guests at
Four Seasons Tented Camp Golden Triangle
can also take part in hands-on elephant intelligence research initiated by GTAEF alongside and their sister charity, U.S. Registered Think Elephants International to study how elephants think about their social relationships and themselves. With this
programme
, guests will have the opportunity to learn more about the way elephants live, their daily lives and their dietary requirements, assist a specialist elephant vet with a routine health check, as well as discover the ways elephants smell and see the world around them and
how they communicate with each other
through interactive games and rewards. This research
will help developing viable plans to protect them and their natural habitat. Apart from
intelligence research program, guests can also book the all-inclusive
Elephant Whisperer Package
where guests will spend time with an elephant veterinarian to learn about the day-to-day aspects of the animal's life, participate in a half-day mahout training session and the rare opportunity to witness an ancient, secret ceremony performed by the elders of the mahout community, intended to provide protection for both the elephant and the mahout as they move from place to place.
Through all these efforts, these special elephants are given the opportunity to live out their days with an endless supply of sugar cane, bananas and veterinary care as well as supporting long term sustainable projects to help all Thai elephants.