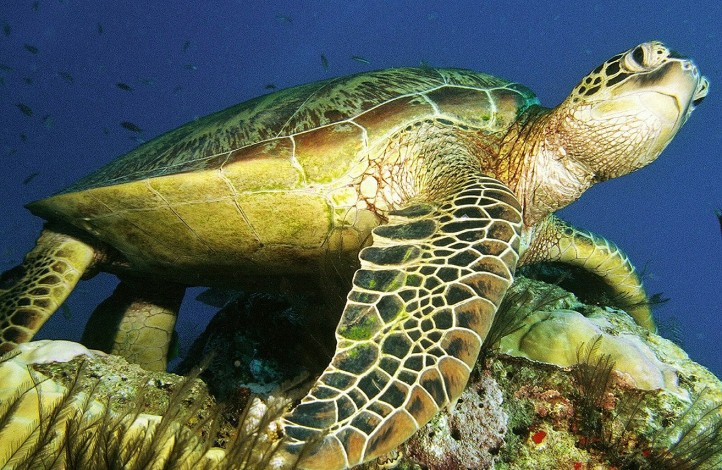 Ginger likes to spend summers on the sunny beaches of Nevis. In the fall, instead of jetting back to a home in the north, she dives down beneath the waters of Montserrat, to the south-east. As a metre-long hawksbill turtle, Ginger spends 90 per cent of her life underwater. We know this because her movements have been tracked since 2007 when she was tagged as part of the Eastern Caribbean Hawksbill Tracking and Conservation Project.
With its quiet, unspoiled beaches, the tiny island of Nevis is a favourite nesting ground for sea turtles. That's why the research program was established in August 2006 by
Four Seasons Resort Nevis
,
the Nevis Turtle Group
and the
Sea Turtle Conservancy
(formerly the Caribbean Conservation Corporation). Ginger is one of six turtles tagged for the project, and each time she surfaces to breathe, her location is tracked and logged through GPS satellites. Through this information, scientists hope to learn more about the species' migratory behaviour so that protection efforts can be improved.
Hawksbill turtles have been listed as critically endangered by the
International Union for Conservation of Nature
since 1996. The species faces many threats including trawl fishing, illegal shell trade, marine pollution and loss of nesting grounds to development. Sadly, it is estimated that just one turtle survives for every thousand or more eggs laid. The strength of sea turtle populations is believed to be a critical indicator of the health of the world's marine and coastal ecosystems.
Four Seasons Resort Nevis has been working with the Sea Turtle Conservancy to protect these animals since 2004.  It raises awareness and funds in support of sea turtle conservation through on-property activities. Children who participate in the
Kids for All Seasons
program receive a complimentary membership to the Sea Turtle Conservancy and are automatically enrolled in the Adopt-A-Turtle program. During nesting season from June to October, guests can take part in carefully guided beach walks to look for nesting turtles. At night, the Resort uses dim beach lighting so as not to disorient turtles.
To date, the Resort has contributed $119,000 USD to the Sea Turtle Conservancy to protect and preserve sea turtle populations. Through these efforts, it is hoped that hawksbill sea turtles will return to Nevis beaches for years to come.