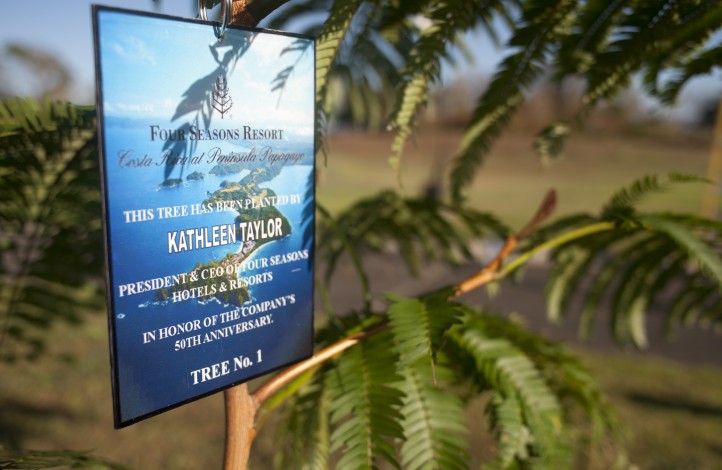 Four Seasons has always strived to involve employees and guests in the common goal of preserving and protecting the planet. Now, as it celebrates 50 years of hospitality, the Company is embarking on one of its biggest sustainability initiatives yet.
To kick off Earth Week 2011, Four Seasons launched 10 Million Trees. Like its name suggests, this program marks our long-term commitment to plant 10 million trees around the world. The planting has already begun with our more than 35,000 employees in 34 countries digging in to help us meet our goal.
Trees play a vital role in the overall health of world. Deforestation wreaks havoc on our global climate by causing an increase in the amount of carbon dioxide released into the atmosphere. This is linked to everything from global warming to severe changes in rainfall patterns, even water levels. Planting new trees will help offset emissions because they store large amounts of carbon dioxide. According to Trees Ontario, in one year, an acre of trees can absorb 2.6 tons of carbon dioxide – the same amount a car produces driving 26,000 miles.
Trees and forests also provide habitat for most of the world's animal species. Although tropical forests only occupy roughly 7% of the earth's dry surface, NASA estimates that they hold more than 50% of the world's animal and plant species. Unfortunately, many face extinction from a loss of habitat.
Through 10 Million Trees, Four Seasons hopes to raise awareness, education, conservation and preservation efforts for trees. It's an initiative we will invest in for years to come.
Peruse through some of our celebration photos below to see how our hotels and resorts are commemorating our 50th year, and marking their commitment to the 10 Million Trees initiative.
View all 100 photos in our 50th Birthday Celebration album.
[flickr]set:72157626489812482[/flickr]