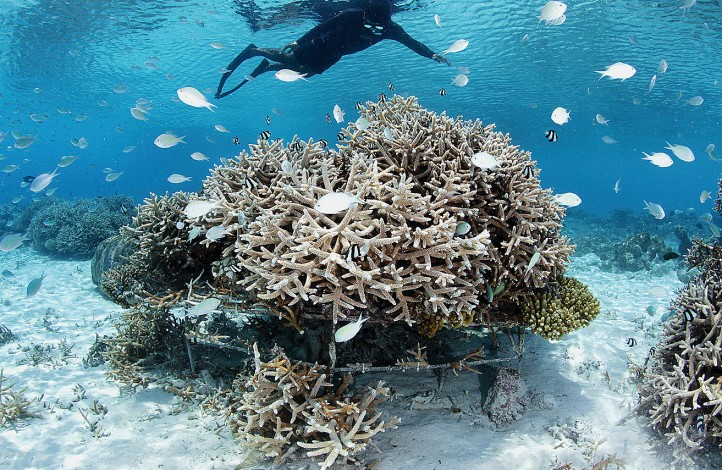 When weather phenomenon El Nino swept across the Pacific in 1998, it triggered more than unpredictable weather.  With the storm came unusually warm ocean temperatures which devastated the Maldivian reef, bleaching and killing 90% of shallow-water corals.
With the urge to help, Four Seasons Resort Maldives teamed up with environmental consultancy, Seamarc in 2001 to establish the coral propagation project, Reefscapers.  A decade later, it's the most successful program of its kind in the world.
Reefscapers is committed to returning the reefs to their pre-1998 condition by growing and transplanting coral fragments to artificial reef structures.  It's a very careful process as coral fragments are attached to the frames using cable ties. After the frame is deposited, the location and identity of each coral genotype is meticulously logged in a central database.
The team regularly monitors, documents and photographs the growth of each coral frame to learn about the types of marine life it's attracting and how it's faring in its environment.  By increasing the reproduction of the most successful clones, scientists hope to develop more resilient coral offspring that can withstand high ocean temperatures and global warming.
All in all, the team's efforts have led to a 20% increase in coral cover surrounding the Resorts.  And marine biologists around the world are taking notice – techniques developed through Reefscapers are now being used in the global development of artificial reef generation.
Reefscapers By the Numbers